Wound Healing and Limb Salvage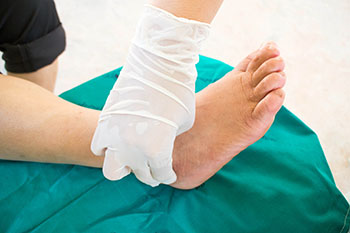 Aung Foot Health Clinic & Advanced Wound Healing Center
The Aung Advanced Wound Healing Center focuses on chronic and non-healing wounds of the lower extremity. Utilizing advanced treatment modalities and an individualized care plan, we assist our patients to improve the quality of their lives.
Are You In Need Of Advanced Wound Care?
While time may heal most wounds, some wounds are resistant to healing. If you suffer from a chronic wound, you are not alone. There are nearly 6 million patients in America who suffer from wounds which don't heal naturally and may be complicated by poor circulation, diabetes and other medical conditions. Chronic non-healing wounds decrease an individual's/patient's quality of life by causing discomfort, reducing mobility and limiting social interaction. Examples of wounds treated are diabetic foot & leg ulcers, vascular ulcers, necrotizing infections, wounds from injuries, animal, reptile & insect bites, and lower extremity surgical wounds that do not heal.
A leader in the arena of advanced wound care offering a full range of advanced treatments
Diabetic foot and leg ulcers
Vascular ulcers
Necrotizing infections
Crush injuries
Other non-healing wounds
A Leader In The Arena Of Advanced Wound Care Offering A Full Range Of Advanced Treatments
Our center founder & director Barbara J. Aung, DPM brings over 20 years of expertise and real world experience in addressing and crafting a plan of care for each individual's patient. This plan of care is based on methodical diagnostic analysis of a patient's wound(s) and associated medical conditions coupled with evidenced based medical science. Along with Dr. Aung our courteous and professional wound healing staff at The Aung Advanced Wound Healing Center offers the latest treatments to help your body heal. Our team works closely with your primary care and referring physicians to develop a personalized treatment plan that utilizes the latest advanced techniques to enhance your body's natural healing process.
Wound Healing & Amputation Prevention
There are no magic bullets in healing diabetic foot ulcers or any chronic wound; however, our experience, expertise and treatment plans supported by clinical studies have shown that what might be considered a routine follow-up of patients with a history of ulceration has been critical in maintaining long-term healing success. Even with the use of appropriate footwear, at risk patients may develop calluses in an area of their previous ulcer that may need periodic debridement to avoid re-ulceration. A periodic replacement of therapeutic shoe gear, orthotics and if appropriate additional bracing is important in order to establish and maintain appropriate support and protection of a patient's foot/feet. Make no mistake wound care that is successful is extremely intensive with significant emphasis on the management of the wound(s). Dr. Aung and her staff are poised to provide a level of care unmatched utilizing the latest advance medical technologies available.
Healing Success Rates Unmatched
When you are exploring chronic wound healing/care treatment options, you may want to know about issues such as time to heal rates, associated disease states that can have an impact on your wound healing and quality of life. To help you and your family make more informed decisions about your wound healing treatment. We publish our patient wound healing/closure rates along with quality of life, patient loyalty, and speed of care results.
Currently, treatment results are available for the wound types we treat:
Wounds Associated with Diabetes
Wounds Associated with Vascular Disease
Animal, Reptile & Insect Bite Wounds
Post-Surgical Wounds
It is our belief you have the right to know this type of information. We also believe in your fundamental right to choose among the best available options for your treatment.
We are one of the first wound healing treatment centers to provide our results to patients.
At Aung Advanced Wound Healing Center, we focus on treating advanced and complex wound cases. It begins with a passionate & collaborative care team. We do everything humanly and scientifically possible for each patient we treat, combining the latest state-of-the-art technology and science to improve our patients' wound healing experience.
Convenient And Comfortable: A Better Treatment Experience For Our Patients
The Aung Advanced Wound Healing Center is located in the San Rafael Medical Center a 6644 E. Carondelet Drive adjacent to Carondelet St. Joseph's Hospital on Tucson's eastside. Patients have easy access and free parking via our Carondelet Drive entrance. Our helpful and supportive staff will schedule appointments and give you all the information you need to care for your wound between visits. Treatment is covered by most insurance plans.
Hours And Scheduling Information
Our Center is open Monday – Thursday 9:00am - 4:30pm
For more information on how to make a referral or to schedule an appointment with Dr. Aung and our Wound Healing Center, please call 520-886-9866; or request an appointment online at www.healthy-feet.com
Wound Healing Research, Studies & Clinical Trials
Dr. Aung as an Investigator is constantly seeking out new wound healing research and applying it to our treatment methods to provide you with a more comprehensive treatment plan. We use our research findings to publish and produce scientifically-sound, clear and accessible information.
Through our involvement in clinical trials, Aung Advanced Wound Healing Center continues to learn new ways to optimize care, and strives to help you improve your quality of life.